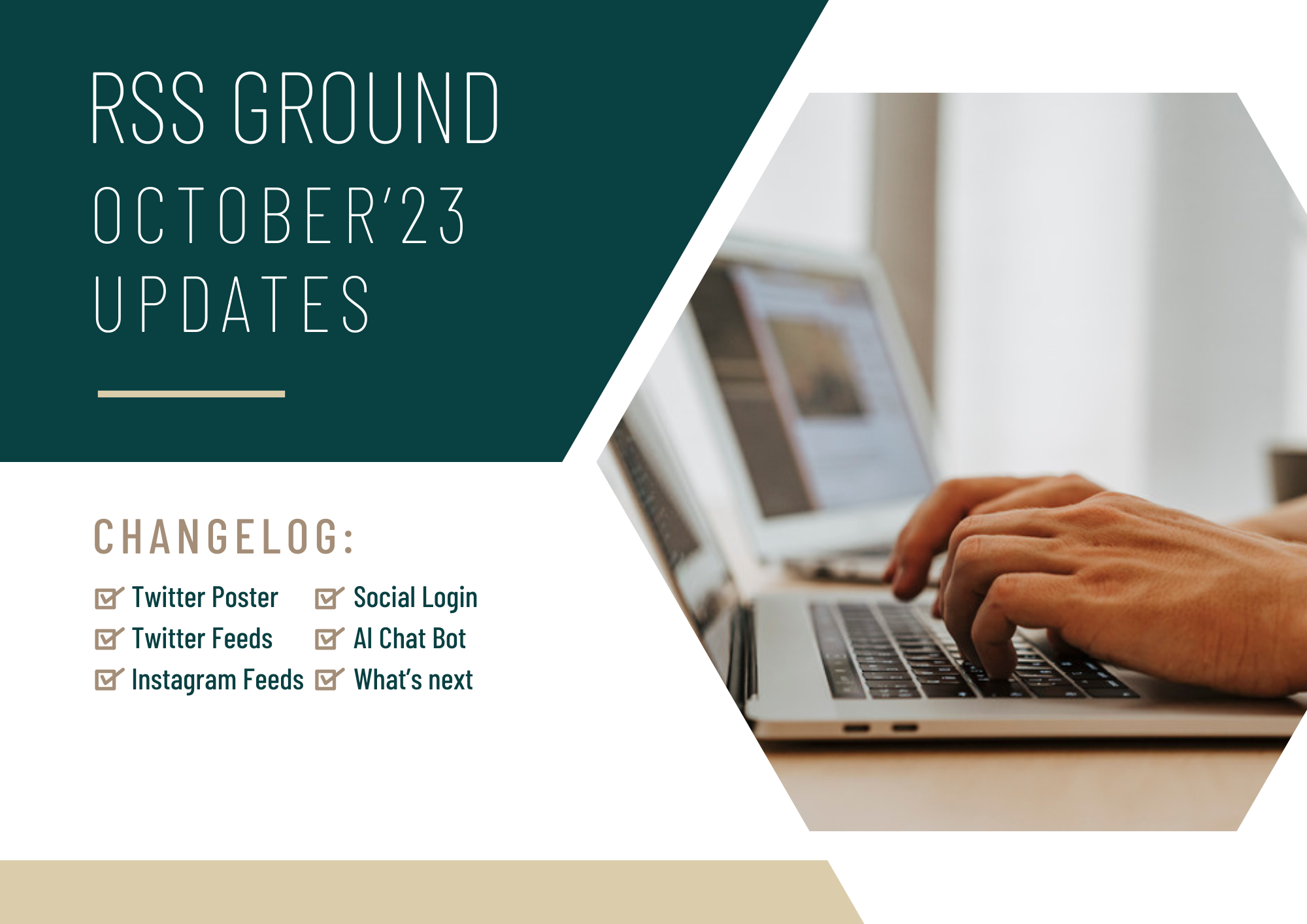 Below is the list of updates and fixes made in RSS Ground recently.
After major changes on the X (Twitter) platform, we have introduced an update to our Twitter Poster.
Most options and features remain the same. However, you now need to create own Twitter apps to continue posting to your Twitter accounts. 
Previously created posting campaigns have to be updated!
For more information, please refer to our X (Twitter) Poster user guide.
Together with X (Twitter) Poster, we have updated our X (Twitter) Feeds generator.
You can generate self-updating feeds with recent posts related to a specific keyword or a specific X (Twitter) user.
No need to create your own Twitter app. All previously generated feeds will continue working.
Read more about X (Twitter) Feeds.
After recent changes on the Facebook platform, we have made some updates to our Instagram Poster. If you don't see your Instagram accounts in the list in your posting campaign, please follow these steps:
Go to the posting campaign editor.
Disconnect the Facebook user.
Authenticate the Facebook user again and confirm all requested permissions. 
Ensure the Instagram accounts are shown in the list.
Save the campaign. 
Read more about Instagram Poster.
We have updated our Social Login feature.  You can log in to RSS Ground with one of your favorite social platform profiles: Facebook, Google, X (Twitter) and LinkedIn.
Just make sure your social profile has the same email as your RSS Ground user.
If you've used social login feature to sign up for RSS Ground account, you can continue to use it conveniently.  
The last but not the least!
Meet a new RSS Ground team member –  the incredible Febe – our AI Customer Success Chatbot.
Febe doesn't eat, doesn't sleep, and is ready to assist you with any questions 24/7.
Find Febe's chat beacon in the lower right corner of any RSS Ground page.
You can also talk to Febe on Telegram if it's more convenient for you:
https://t.me/RSSground_bot


And don't forget that you can also use AI to compose your Personal Feeds posts, write text and create images.
Read more about Personal Feeds
Our next major undertaking is integrating with Zapier. Just like with IFTTT, you will soon be able to send content from RSS Ground to your Zaps and collect targeted content from Zaps for your RSS Ground personal feeds. Additionally, we will continue to implement minor updates and enhance our services. Stay tuned!

We are committed to making RSS Ground a powerful and efficient service to assist you in automating your content syndication and content marketing efforts. Therefore, we are always eager to hear your ideas and suggestions.
Be a Content King with RSS Ground!